OCBC-2118: currency money counter sorter and banknote sorting machine
Product Description
OCBC-2118: currency Money counter sorter and banknote sorting machine
banknote sorting machine,currency sorter , Money Counter sort
Features:
1.Big LCD screen, new technology
2.Multi-currency counting and detecting
3.Euro Mixed Denomination Automatic Clear
4.Euro Cumulative And Mixed Denomination Classification Function
5.Fluorescence Detecting (UV)
6.Magnetic Detecting (MG)
7.Digital Detecting
8.Safe Cable Detecting
9.Batch & Addition Setting
10.Count Comparative Function
11.Self Diagnosis When Start
12.Automatic start, stop and clearing
13.With batching, adding and self-examination functions
14.Automatic half-note,double-note, chain-note, size detection
15.Counting Speed: 1000pcs/Min
16.Banknote Size:Max. 90*190mm, Min. 50*100mm
Specifications:
Function

Automatic start/stop

Yes

Batch counting (Preset No. of bills)

Yes

Add up each counting numbers

Yes

UV detection

Yes

MG detection

Yes

Euro Mixed Value

Yes

Indian Currency Mixed Value

Yes (Optional)

Optional Detectable currency

Suitable for most currencies in the world

USD / EUR / GBP / Syria credits / Bolivian Boliviano / Brazilian credits / Kenyan credits / Thai baht / Malaysian ringgit / Singapore Dollar / Egyptian credits / Pakistan credits / Nigeria credits / Venezuela credits / Turkish credits / Vietnam credits / Israel credits / Ethiopian credits/Indian Rupee  (No Need Sample Credits)

Performance Characteristics

Counting speed:

1000 ps/min

Feeding capacity:

>130pcs

Receiving capacity:

>300 pcs

Size of countable notes:

50mm×100mm~90mm×190mm

Thickness of countable notes:

0.075-0.15mm

Counting Range

1-9999 pcs

Batch Range

1-9999 pcs

Counting display:

LCD

Batch display:

LCD

Physical Characteristics

Power source:

AC220V±10% 50Hz AC110V±10% 60Hz

Power consumption:

≤60W

Weight

GW. 6.5KG
OCBC-2118: currency money counter sorter and banknote sorting machine
banknote sorting machine,currency sorter , money counter sort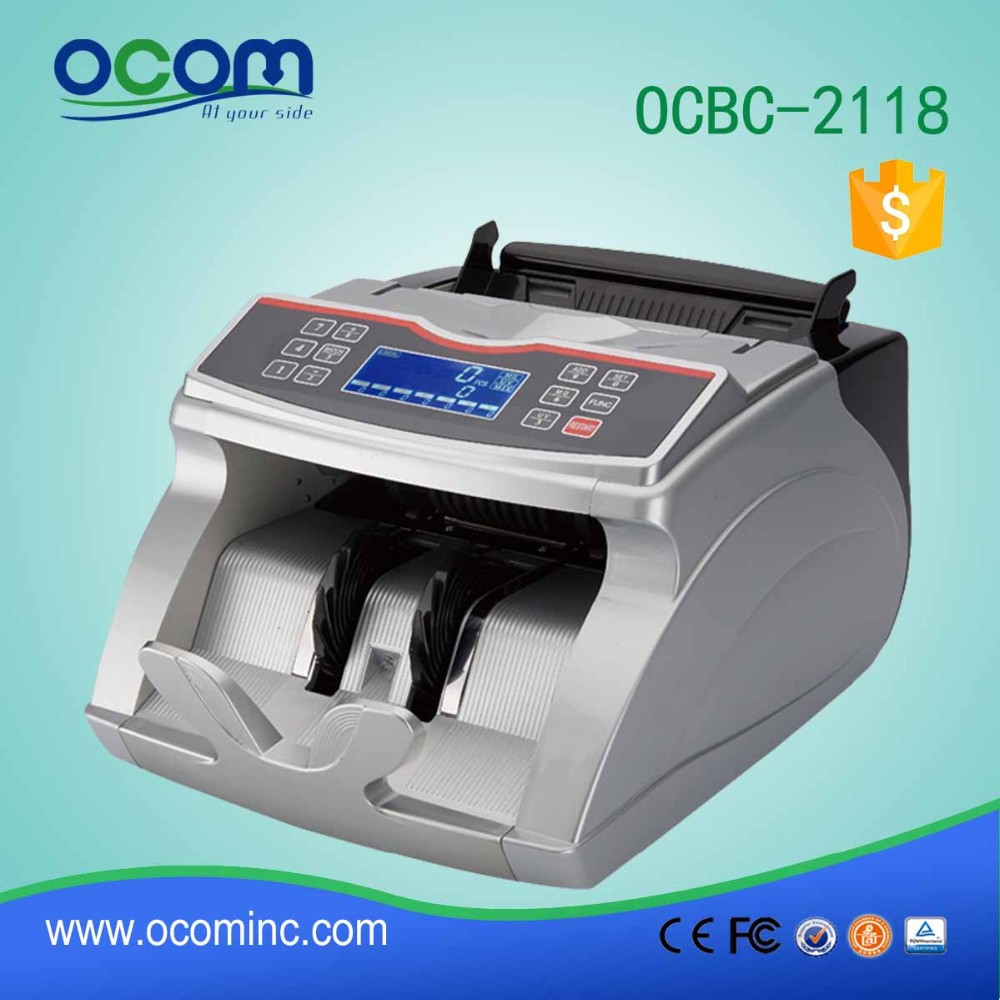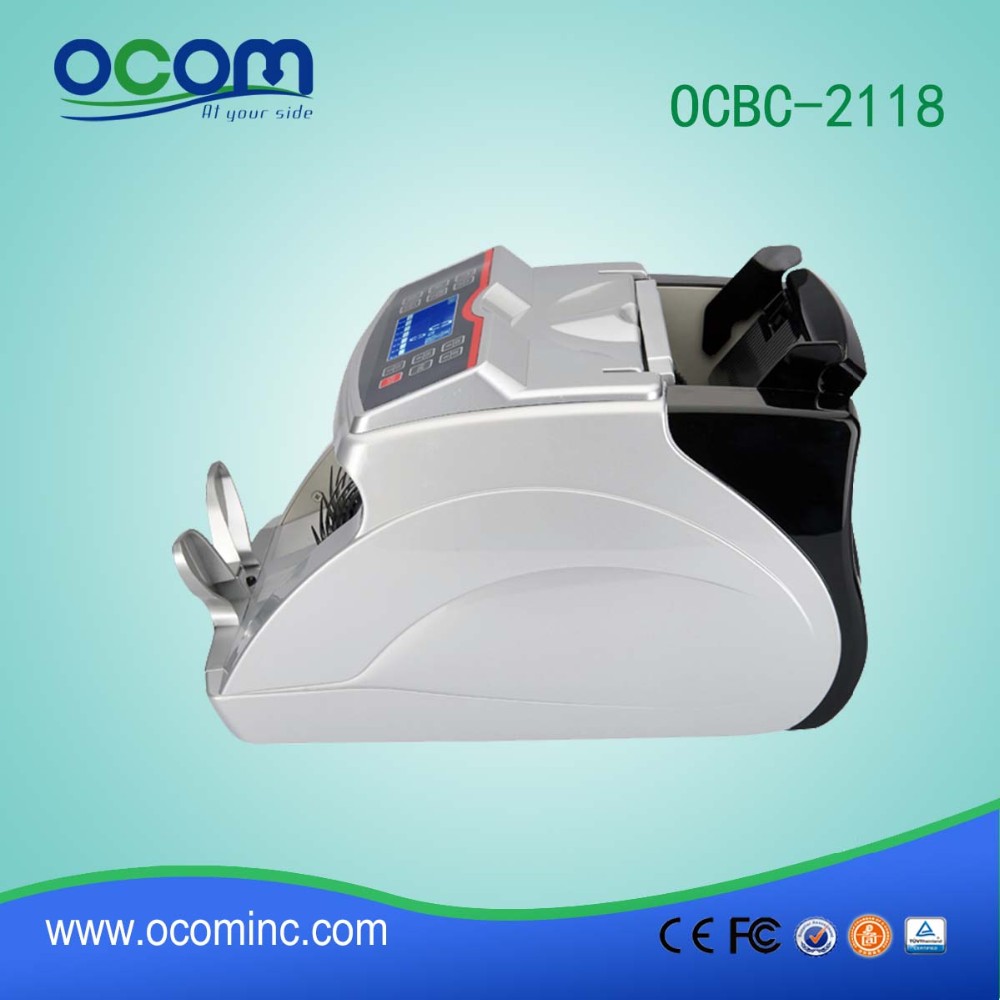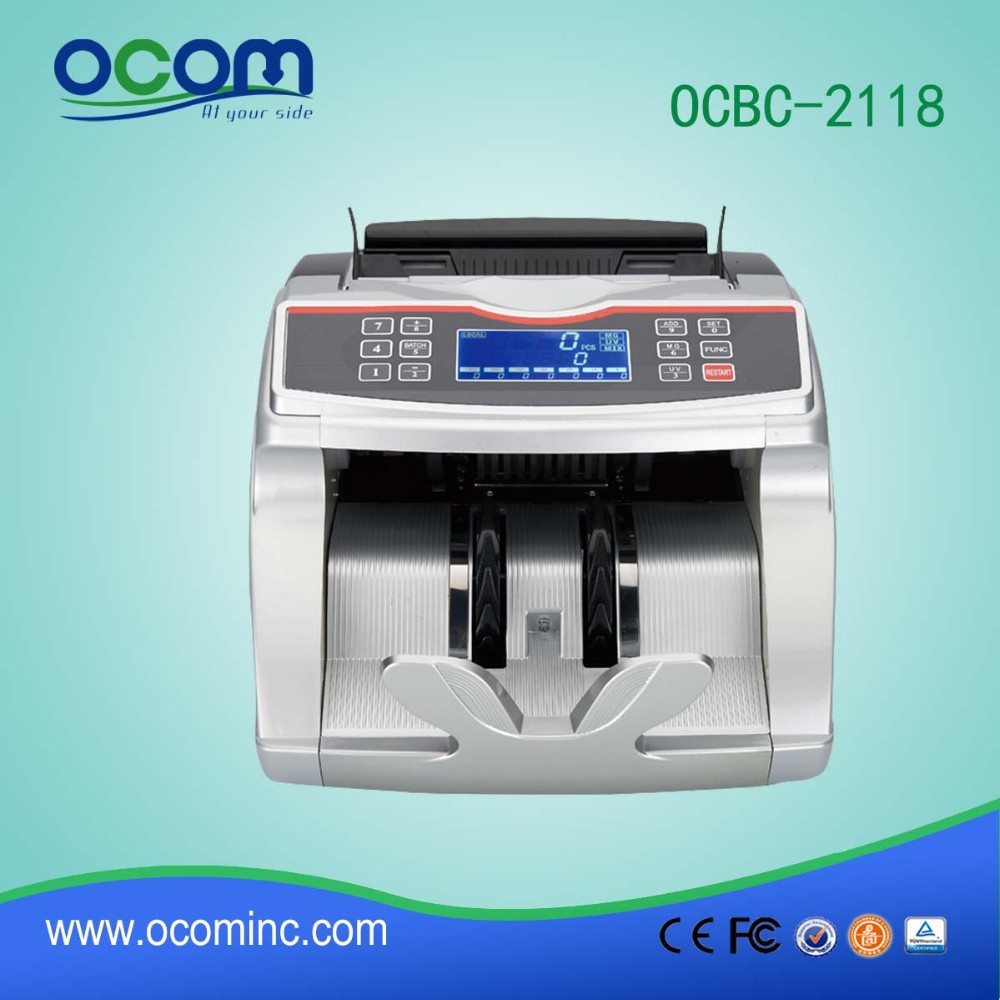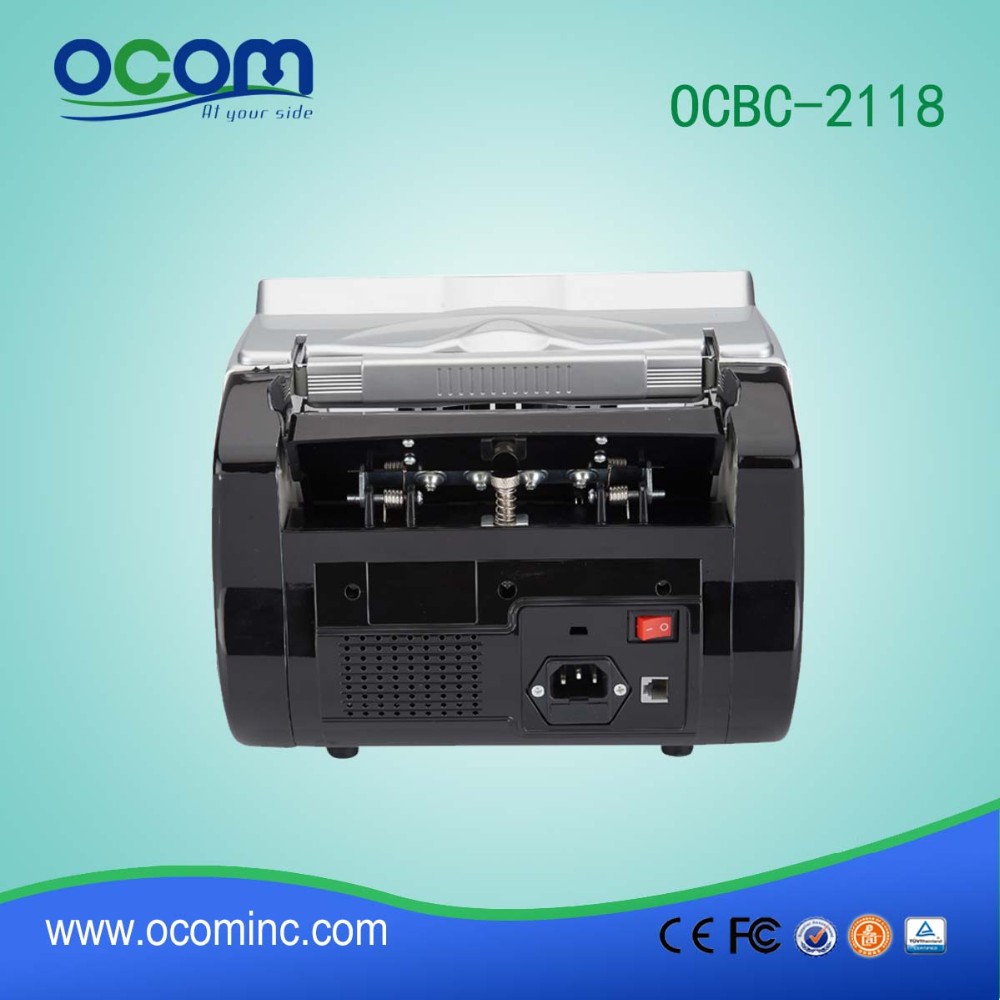 n Thermal Printer                                                n Barcode printer
n Dot Matrix Printer                                            n Barcode Scanner
n POS Terminal                                                 n Magnetic Card Reader
n Date termina                                                   n  Cash Drawer
n Customer Display                                            n  POS monitor
n  POS Keyboard                                                  n Money counter
n Electronical Scale                                            n  Thermal Paper
OCOM Technologies Ltd. is the main supplier and manufacturer of POS and Auto-ID related products with TUV verified. OCOM is serving the fortune 500 company, and have the top 1% level 
trade asssurance guarrantee by alibaba.
OCOM's products portfolio covers Thermal Printer, Barcode Printer, Dot matrix printer, Barcode Scanner, POS Terminal, Magnetic Card Reader, Date terminal, and other POS Peripherals products( Cash drawer ,Customer Display, POS Monitor , POS Keyboard ,Money counter,Electronical Scale,Thermal Paper ), which are widely used for retailing, restaurant, bank, lottery, transportation, logistic, and other applications.  We have CE, FCC and other required certifications.   

OCOM's mission is to be the compelling choice for our partners, and our three basic belief are "Integrity based, Strive for excellence, Win-win cooperation". We would like establish stable and reliable partnerships with customers all over the world. OEM/ODM is welcome. 
Together we quest for the best.

OCBC-2118: currency money counter sorter and banknote sorting machine
banknote sorting machine,currency sorter , money counter sort
Product Categories : resultful